I texted a friend on Tuesday for a little impromptu lunch and thrift store shopping. Our boys will be friends someday. We hope good friends. She's also a baby loss mama and her first is hanging with my first up in the clouds. I hope our firsts are friends, too. Someday maybe we'll find out.
I've been feeling crafty and apparently nesting has now kicked in since B is now 3 months old. I just couldn't bring myself to think about anything for a baby I wasn't sure would come home with us. I did that with Andrew and felt like a fool when we walked into a home full of baby, but minus the baby. We're considering transitioning B into his nursery soon and out of our room and his co-sleeper where he conveniently thinks awake time happens somewhere around 6 a.m. daily. He's a happy waker, so that's a wonderful thing-- but Mom and Dad aren't exactly with it in the wee morning hours quite like his happy little self. We don't have a dark room and that could be our first rookie mistake. For awhile we did put fitted sheets over the windows (awesomely ghetto) and now said sheets are in B's nursery for
when he screams his head off and protests
naps. We'll be working to fix that curtain situation sometime this weekend. I've also been dreaming of mobiles as B really enjoys staring lately. It's clear he's trying to figure this whole world out and I want to provide him some stimulation-- though I'm not sure he'll even see the mobile I plan to make with the blackout shades I plan to assemble.
Anyway, the crafts. We're working on things. I emailed a few of my BLM sistahs and asked what they thought about some kind of art piece to go over the crib for my A and B babies. Andrew had a frame with his name in it-- but nothing fancy and it was only a placeholder to begin with. I hated it from the start and still hate it despite loving his name there still. I wanted to somehow incorporate both of my babes into an art piece and create some kind of family keepsake out of the whole thing. Except, I didn't want it to be too juvenile as I'd like to be able to move it once my living kiddos are no longer kiddos and something I could also maybe incorporate baby #3 (when that all goes down-- Lord help us all) shows its face. They had lovely ideas... but I still wasn't biting. I finally decided I'll be using something I thought I hated-- a wall decal. A sticker, if you will. I just love maps and our nursery doesn't really have a theme anyway. It's sort of a hodgepodge of things we like (wildlife, a cool & eclectic ABC chart, bookshelf with fun items I either thrifted or purchased). Not exactly an art piece we'll keep around forever, but I love it nonetheless. Here's the inspiration decal.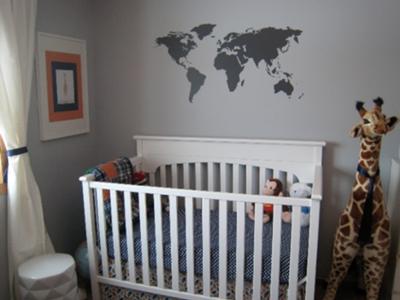 I'll be making a mobile this weekend, and typing that makes me all nervous that I'll actually have to show it when done. It will be conjured out of two different ideas:
The birds from here, but in different, bolder shades (5 because Andrew was born on the 5th and I want him in this, too. And of course B was born on the 23rd and if you really stretch out this whole thought, 2+3=5. I know, it's a stretch but it only has to make sense to me, okay? Hah).
And this one based on the use of a natural branch. I will be finding one in our yard because we have approximately 3,482 mature trees that drop these nonstop. Usually we're cursing about having to pick them up. For once I'll be delighted to find one.
All that to get back to my thrift store story. So, my friend and I went to lunch and to this thrift store in our area, Savers, that proceeds are donated to the Epilepsy Foundation. That's nice, but we didn't end up buying anything, though I did spot some delightfully cute Banana Republic & Loft capris
that would never fit over my two pregnancies in two years mom butt
.
Here were the highlights. Prepare to be entertained.
Oh me. Oh my. What do we have here? The best sign ever? I thought so.
(p.s. I detest Walmart. Target is where it's at!)
Because you might be in need of two lamb cake molds. Also, that's Wilton. And I
heart
Wilton. And since I heart Wilton and their warehouse is approximately 5 miles from my house, I will be going to their
enormo tent sale
promptly on the first day of its opening on June 1.
Hmm. Thought they might be dead.
Do you know what that is?
Yeah, that is a mandolin with approximately 30 sharp edges and blades. Lucky infant who gets its hands on that one!
Done thrifting but decided to head on next door to Old Navy to check out the little people clothing options. This one had B's name written all over it. Except I wasn't sure Ray would approve... until I got home and showed him this photo in which he replied, "Why didn't you buy it?"
My friend and I went our separate ways and since B's nap was already thrown out for the day because of all the fun we were having, I hit up a few more stores. One of those being
The Land of Nod
Outlet. It's still wildly expensive and next to the
Crate & Barrel
Outlet where we sometimes score great deals... but not much happening that day. I did happen to score this hardback book.
For a crazy steal of a buck! What? No one likes a peeing boy?
We happen to! That would be the (replica because the other one is locked away somewhere from being stole again) Manneken Pis in Belgium! He's just a wee little lad. Hah.
And for good measure because this has turned into a post that went in all kinds of crazy directions, here are a few more photos from the week:
One of the dinners: Pesto chicken pizza (you can tell which side is mine with the sundried tomatoes and olives instead, obvi)
And cute little B monster, of course...
We hang out on the front lawn a lot. I think he enjoys staring at the swaying trees. And mama needs a break from holding him sometimes. It usually buys me about 30 minutes of time.
Sleepy chunk
Still a bit too small for the ol' Johnny Jump Up. I have a feeling he's going to love this thing. He is a big fan of "standing" and looking around. See those blankets stuffed in there? Yeah, not ready quite yet. ;)